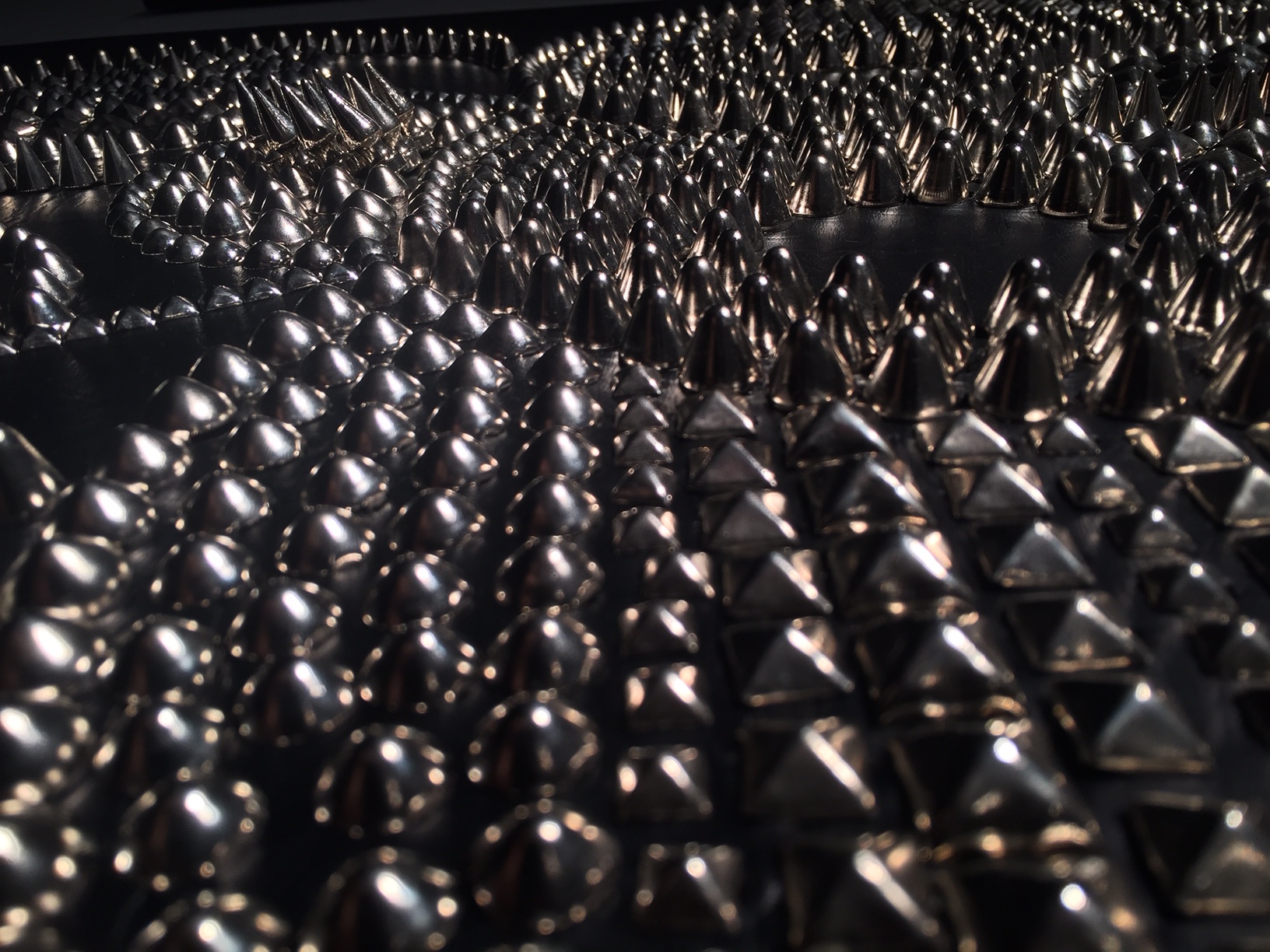 Voids and Invocations
Jan. 28 – Feb 28, 2015
Opening Reception: Wednesday Jan. 28, 7pm to 9pm
It always begins the same way. The primordial void, the vast chaotic emptiness of pre-creation before time began. And then out of nothing the void is punctured and orders are formed around the developing architecture of creation.
This is the kind of language that ancient poets and contemporary psychologists like Manly. P. Hall or Carl Jung use to correlate alchemical symbolism with the development of the psycho-spiritual life of the individual. Here our unknown selves are the void and our consciousness is born from the void ex nihilo, ready to be formed by naturally occurring archetypal orders that are universal but result in multitudinous expressions of subjectivity.
It is also an accurate account of the ritualized studio practice of Brooklyn based artist Evie Falci. Using the language of esoteric symbolism and sacred geometry, Falci's alchemical gold is definitively spiritual and her transmutation of metals occur in complicated geometric compositions of punk rock studs and pleather. She does not plan her paintings to a definitive degree before she begins. Instead, she taps into a type of shamanistic creative invention with a loose guide of esoteric rules and a personal symbolic order of geometries to guide each unique construction.
Here, in her first solo exhibition at The Lodge Gallery, Falci continues to explore the development of insight and intuition through the arrangement of symbolic imagery. Her most recent paintings of studs on pleather act as invocations meant to conjure allusions to the spirit world and, like totems, become activated access points to other unworldly dimensions. Cross referencing multiple cultural influences, including Islamic mosaics, ritual body scarification and tattooing, South American textiles, alchemical and esoteric symbols that span from India and the ancient Levant to fraternal enlightenment period hieroglyphics, she has built a composite visual language that is as deeply personal as it is accessible to a popular cultural audience. Harnessing the familiar appeal of popular materials such as denim and pleather, rhinestones and steel studs, her completed compositions are lush and tactile, mysterious and imbibed with magical incantations and divine presence that transform the superficial into the transcendental, and ultimately elevate the baser materials so that they appear to surpasses the sum of their parts.
Evie Falci (born 1985, Brooklyn, NY) is a 2007 graduate of the Maryland Institute, College of Art, Baltimore, Maryland. She participated in the Marie Walsh Sharpe Space Program in 2011 – 2012. Her work has been included in numerous exhibitions at various venues, including, Hudson, Eric Firestone Gallery, East Hampton, Feature Inc.,New York and Gallery Diet, Miami, and is part of Art in Embassies, Jeddah, Saudi Arabia. Her most recent solo exhibition Everything All Night was at Jeff Bailey Gallery, New York in 2013. Falci continues to live and works in Brooklyn, NY.
The Lodge Gallery, founded by Keith Schweitzer and Jason Patrick Voegele, is located at 131 Chrystie Street on Manhattan's Lower East Side.